BioPro PerioScript Irrigator Concentrate
$ 23.00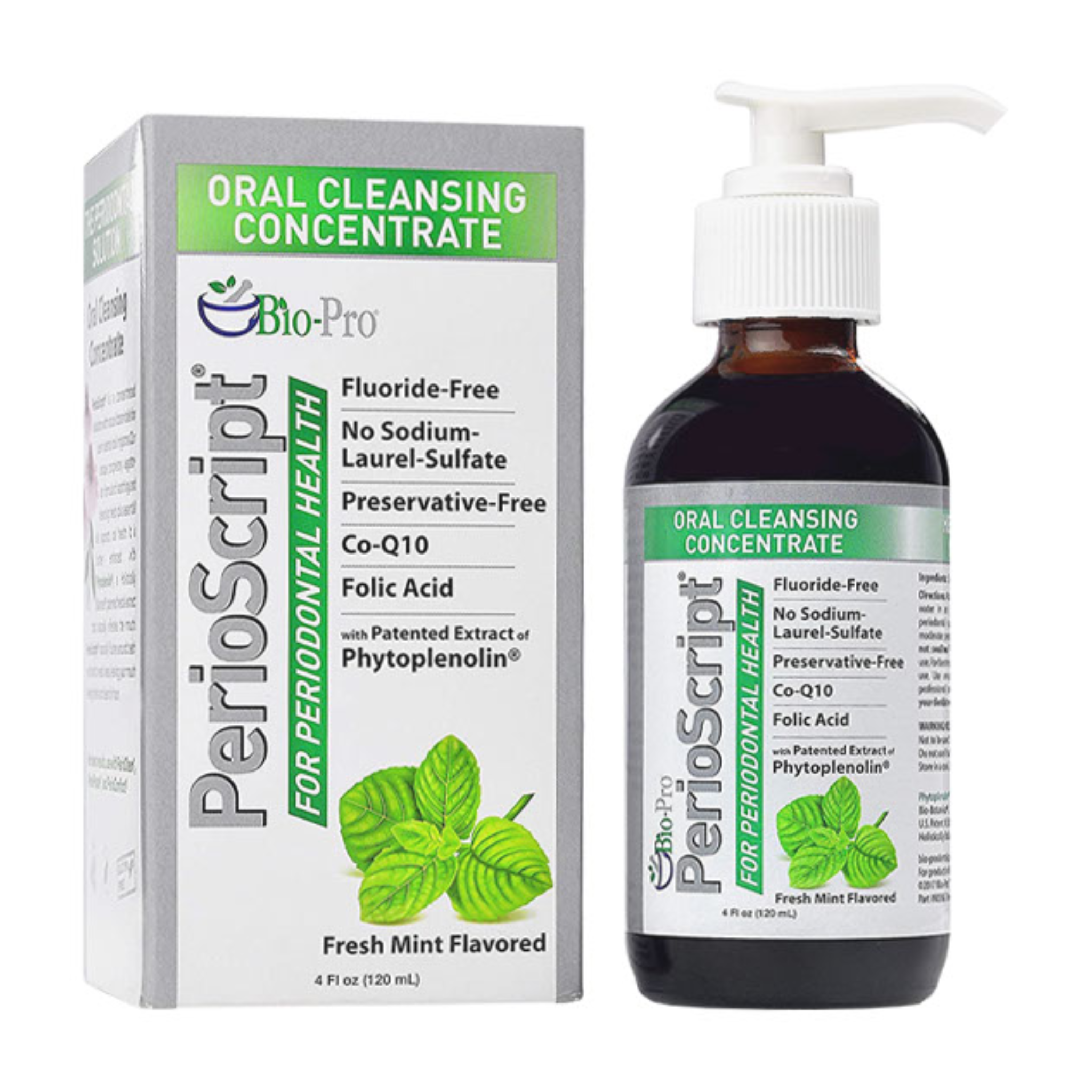 Specifically developed for use in oral irrigators.

This proprietary, vegetarian formula synergistically blends soothing organic and responsibly wildcrafted herbs plus essential oils with the patented extract of Phytoplenolin® an herbal extract that has been shown in independent laboratory studies to promote cell vitality.

PerioScript™ 

naturally flushes around teeth and hard to reach areas. This advanced formula is so concentrated that it clings to gum tissue longer than less dense commercial products, providing effective, long-lasting results.

Its cool mint flavor leaves the mouth feeling fresh and clean for hours.

The preservative-free, proprietary, vegetarian formula synergistically blends soothing herbs, vitamins and essential oils.

Xtreme-Clean™ 

organic, Bio-Saponins

™, flush pockets and hard to reach areas with soap like action.

Contains herbs well-known for discouraging the growth of microorganisms.

Easy to use pump dispenser.

4 oz.
Ingredients: Phytoplenolin® (Centipeda Cunninghamii Extract), Bio-Chelated® Extracts of Calendula Flowers (Calendula Officinalis), Chamomile Flowers (Matricaria Recutita), Echinacea Tops (Echinacea Purpurea), Gotu Kola Herb (Centella Asiatica), Prickly Ash Bark (Zanthoxylum Americanum), Olive Leaf (Olea Europaea), Grapefruit Seed (Citrus Grandis), Black Walnut Green Hulls (Juglans Nigra), Green Tea Leaf (Camellia Sinensis), Essential Oils of Peppermint (Mentha Piperita), Oregano (Origanum Vulgare), Clove (Eugenia Caryophyllus), Thyme (Thymus Vulgaris), Lavender (Lavandula Angustifolia), Cinnamon (Cinnamomum Zeylanicum), Eucalyptus (Eucalyptus Globulus), Bio-SaponinTM [Yucca spp, Quillaia (Quillaiasaponaria) Bark], Sarsparilla (Smilax Regelli) Root, Wild Yam (Dioscorea Villosa) Root, Folic Acid, Co-enzyme Q10 (Ubiquinone), Aloe Vera (Aloe Barbadensis), Chlorophyll. Base Ingredients: Purified Water, Vegetable Glycerin.