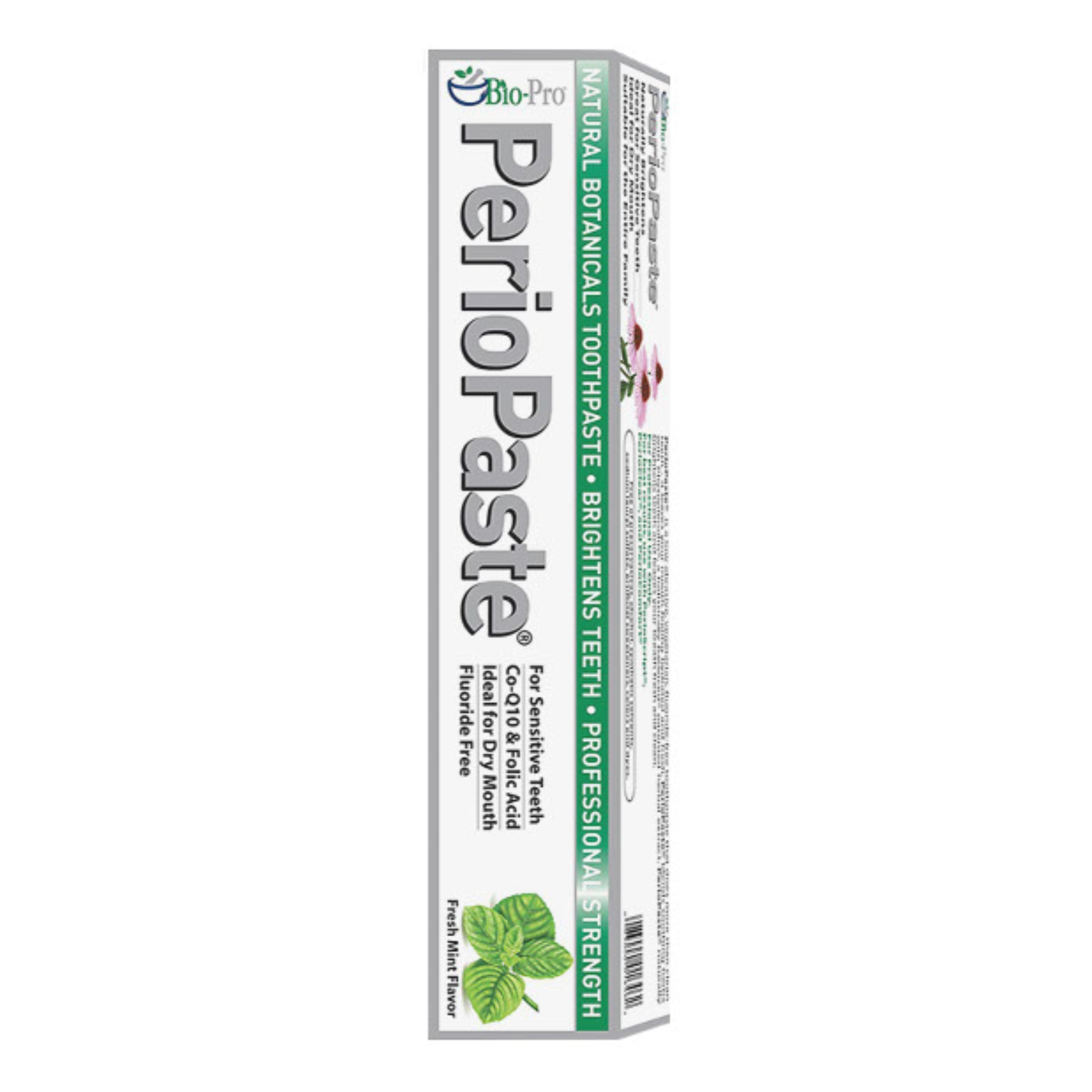 PerioPaste™ is an all natural toothpaste that does more than just clean your teeth; this advanced formula discourages the growth of bacteria in periodontal pockets and provides the nutrients needed to support healthy gum tissue.
Contains organic wild-crafted herbs and essential oils, which have been shown in research to discourage the growth of bacteria while promoting the growth of tissue for healthy gums.
The only natural toothpaste that contains the patented extract Phytoplenolin, to promote cell vitality. Phytoplenolin has been used since ancient times for its topical anti-inflammatory properties.
Fortified with Co-Q10 and folic acid, two nutrients that help promote a healthy environment for your mouth.
Contains Xylitol to stop tooth decay.
No preservatives, no alcohol, no artificial colors or dyes and no sodium lauryl sulfate.
The refreshing mint flavor will keep your mouth fresh for hours.
Vegetarian, kosher formula.
Ingredients:

 

Phytoplenolin (Centipeda Cunninghamii Extract), Bio-Chelated Extracts of Echniacea Purpurea Tops (Echinacea Purpurea), Calendula Flower (Calendula Officinalis), Olive Leaf (Olea Europaea), Black Walnut Green Hulls (Juglans Nigra), Gotu Kola Herb (Centella Asiatica), Chamomile Flower (Chamomilla Recutita (Matricaria)), Green Tea Leaf (Camellia Sinensis), Prickly Ash Bark (Zanthoxylum Americanum) and Grapefruit Seed (Citrus Grandis), Essential Oils of Peppermint (Mentha Piperita), Oregano (Origanum Vulgare), Clove (Eugenia Caryophyllus), Thyme (Thymus Vulgaris), Lavender (Lavandula Angustifolia), Cinnamon (Cinnamomum Zeylanicum) and Eucalyptus (Eucalyptus Globulus), Bio-SaponinTM

 

(Saponins), Folic Acid, Coenzyme Q10 (Ubiquinone), Aloe Vera PhytogelTM

 

(Aloe Barbadensis), Sodium Bicarbonate, Colloidal Silica, Lysine, Xylitol, Xantham Gum and Chlorophyll.   Base Ingredients:Calcium Carbonate, Vegetable Glycerin, U.S.P. Purified Water.